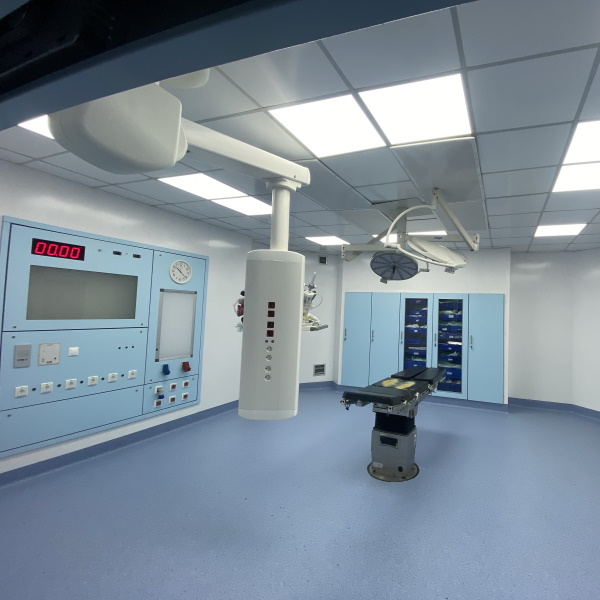 Mobile Operating Tables of modular technology, suitable for all surgical specialities, electro-hydraulic/electromechanical operation, made of stainless steel, with patient load capacity up to 450 kg.
Operating Systems with Transferable Tabletops
Operating Table System consisting of a column, a modular operating tabletop and a trolley, made of stainless steel. The operating tabletop can access the column from all four sides, depending on the architecture of the operating room. Electromechanical operation, with patient load capacity up to 450 kg.
Lamps for Operating Rooms
Suspended Units for Operating Rooms
Pendants for Medical Gas & Electric Supply - Surgeon & Anesthesiologist
Flexible Operating Room Pendants, equipped with all the necessary electrical and medical gas outlets and with the ability to add a variety of desired accessories, such as shelves, IV poles, anaesthesia tower suspension system, etc. Electric or manual, with a choice of single or multiple heads and the possibility of single or double arm.
Bed Head Units for Medical Gas & Electric Supply
Patients' Bed Head Units with medical gas outlets, electrical sockets, direct and indirect lighting, peripheral accessories, accessories rail, etc. Passing of the outlets inside multiple separate compartments along the unit, in accordance with the European regulations and the criticality of each Hospital area.
Operating Room Organization Systems
IV poles
Stainless steel instrument trolleys
Stainless steel antistatic operating steps
Shoe racks
Antimicrobial trolleys for medical equipment
General purpose stainless steel trolleys
Trolleys for dirty linen/waste
Infectious waste transfer trolleys
Anesthesia/emergency/medicine trolleys, made of steel with epoxy paint
Anesthesia/emergency/medicine trolleys, made entirely of polymer material
Two/four-section patient stretchers.
Operating Room Construction
Prefabricated Operating Rooms
Operating rooms according to EN ISO 14644
Manufacturer: SHD ITALIA S.r.l./Italy

Prefabricated system for the installation of operating rooms, modular, which consists of fully assembled elements (frame - panel - false ceiling, etc.). Industrial construction which ensures a perfect fit to form a homogeneous whole, resulting in the creation of a "cage" to protect the aseptic conditions of the Operating Room from any aggravated conditions of the surrounding areas.
Panels made of aluminium with increased resistance to impact and stress in general. They are rigid, non-deforming, thanks to the reinforced metal ribs of the same material (without the addition of common building materials such as plasterboard, etc.). Their light weight and adaptation mechanism to the frame allow their immediate addition and subtraction by a single person.
Operating Room Wall Cladding
Antimicrobial Surfaces
Specialized Antimicrobial BioClad wall cladding surfaces of industrial production suitable for areas where excellent antimicrobial hygiene results are required. Material of high antimicrobial specifications and certifications, thanks to BioCote silver ion technology, which lasts for the entire life of the final product acting against a wide range of bacteria (such as MRSA, E-Coli, Salmonella, etc.), but also fungi and viruses (such as H1N1).
The high quality of the material allows the easy and accurate thermoforming of the sheets so that they are properly formed and fully applied at critical points of the wall masonry (such as columns, corners, etc.). The bonding of the sheets is done thermally using a cord made of the same material, with also antimicrobial properties, eliminating the existence of joints and consequently the germs that are caused.
Operating Room Control Panels
Built-in control panel for the concentration of the necessary handlings and supplies of the operating room. With separate compartments which have independent hermetic doors. Internal construction and configuration in accordance with European standards on electrical safety and electromagnetic compatibility. Exterior surface made of specialized antimicrobial material BioClad.
With the ability to be equipped with a variety of instruments, such as:
Medical gas outlets
X-ray viewer
Analog clock
Digital timer with control
Monitor
Power outlets
Switches for adjusting the illumination of operating lamps and common lighting
Isodynamic grounding outlets
Intercom device
Indication of temperature and humidity, etc.
Can be produced in several dimensions for optimal fit in each room.